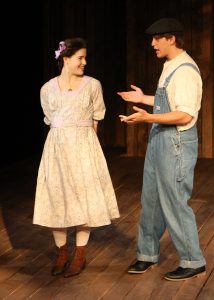 Thanks to overwhelming popular demand, we're proud to announce the addition of a Saturday matinee performance of PARADE on August 12 at 3pm! We're happy to give Orange County audiences another opportunity to see PARADE before it closes this Sunday.
The Sunday performance is already sold-out, and tickets for PARADE's closing weekend are selling fast.
Click here to get your tickets before they're all gone! 
From the Critics: 
From our Audiences: 
"It was amazing, heartbreaking, breathtaking and any other adjective that you would like to use." — Linda H.
"I have seen hundreds of plays in NYC, LA & Washington DC, your production of Parade is one of the finest thrilling I have ever experienced. It was truly Broadway in Anaheim." — Arthur A.
"This was the best show I've seen. The story was intense and ingrossing." — Beth A.
"The show is perfect. I'm so critical and typically dislike most things I see, but I was completely lost in the story for EVERY MOMENT. It's genius." — Christopher A.
"A stunning play! Everyone should see it!" — Dennis K.