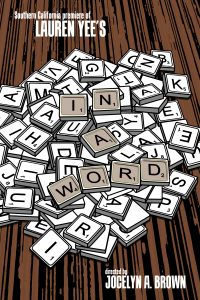 We're proud to announce the Southern California premiere of the award-winning in a word, an emotional but funny mystery that takes a look at the ways in which tragedy can distort our reality and our speech. Lauren Yee (Samsara), a former Chance resident playwright, penned in a word, and the show's been receiving awards and critical acclaim across the country ever since.
in a word follows the story of Fiona, a mother who continues to struggle with grief and sadness after the mysterious disappearance of her son two years earlier. The case has since gone cold as ice. Her well-meaning but blase husband has moved on from the tragedy, the detective has given up, and — for some reason — her son's kidnapper continues to introduce himself at the supermarket.
"I think I had your kid," he tells Fiona in the check out line.
"In class?" Fiona responds.
"In captivity."
As Fiona recalls the memories of that one fateful day two years ago, bad puns, metaphors, and other humorous forms of word play illuminate the complexity of language and how our speech can impact the ways we see and feel the world around us. While speaking with Theatre Bay Area in San Francisco, Yee said, "Throughout the play, you have Fiona desperately trying to use the correct words to describe what's going on in her life in a way that she thinks an audience will find palatable. And it's only when she is able to do that in more truthful, honest, [and] a little bit uglier words that she's able to exorcise some of those demons."
Yee's powerhouse productions, which include Samsara, Ching Chong Chinamen, and King of the Yees have been staged all across the country. One of her shows just closed a run at the Kirk Douglas Theater, and the New York City production of in a word was recently named a New York Times Critic's Pick.
in a word will begin performances at the Chance on September 8 on the Fyda-Mar Stage and will run through October 8.
Click here to read the full press release.