Elevada
By Sheila Callaghan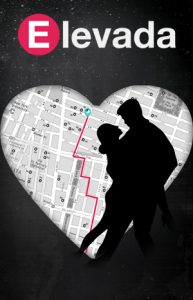 Directed by Nicholas C. Avila
Open Call for Selected Roles Tues. February 27th at 7:00 pm
Appointments:
Please attend our open call, there will be no appointments accepted for this audition.
Location:
Chance Theater
5522 E. La Palma Ave.
Anaheim, CA 92807
Prepare:
Sides as listed below.
Bring:
Current headshot and resume.
Rehearsals:
Begin March 26th. Weekday evenings and weekends.
Performances:
At Chance Theater, on the Fyda-Mar Stage
May 4 – June 3
Fri 7:45pm, Sat 2:45p & 7:45pm, Sun 2:45pm
Special Performances: Sun May 6 at 7pm, Thur May 17 at 7:30pm
Pay:
$450-$650 total for the production run of 18 performances
Synopsis:
What kind of tango partner are you looking for — one that will glide with you above all of life's messiness, or someone who will stay with you on the ground? It's only their first date, but Ramona and Khalil's time is already running out. Ramona has cancer. Khalil is selling his identity to a corporation. Typical relationship stuff. While they both seem set to vanish off this earth, they unexpectedly find themselves preparing to give love one more try. This warm, witty, and wise romantic comedy asserts that even in the potentially hazardous, high stakes game of love and relationships… the risk is worth it if it means finding your favorite dancing companion.
Character Breakdown:

Ramona:
Female, 24-35, Any Ethnicity
Ramona's going on lots of first dates but doesn't invest a lot of energy in going on second ones. A petite, bright bubbly gal, she's quirky and adorable, yet historically a little unsure of herself. Has ironically come into her own due to a recent cancer diagnosis that has given her the courage/excuse to live in the moment, warding off old demons that have made the fear of commitment a real obstacle for her.
Dance experience a plus, ballroom preferred.
[
Audition Side 
]
Khalil:
Male, 25-35, South Asian or Middle Eastern or African American
A stylish internet entrepreneur/personality though not entirely comfortable in his own skin. A bit of a social outsider who longs for substance and connection, he studies how people form online communities in order to better understand people in the real world. Averse to the risk of personal connection, he is seeking to sell his identity to a corporation in order to find significance.
Dance experience a plus, ballroom preferred.
[
Audition Side
 ]