Never miss an audition, join the Chance Audition E-List.
————————————————————————————————————————————————————————————–
Audition sides can be found under each character breakdown.
---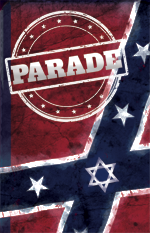 Parade
Music and Lyrics by 
Jason Robert Brown
Co-Conceived and Directed on Broadway by 
Harold Prince
Musical Direction by 
Robyn Manion
Open Call Auditions

Tues, March 21 & Wed, March 22 at 7pm
If you'd like to skip the open call and schedule an audition appointment, then send your headshot and resume to casting01@chancetheater.com by March 17. Smaller group appointments are made in 30-minute increments, starting at 8pm each night
Prepare:

16-32 bars of contemporary musical theater.
Bring:
Headshot, resume and sheet music. Accompanist will be provided.
Rehearsals:
Begin May 15th. Weekday evenings and weekends.
Performances:
At Chance Theater, on the Cripe Stage
June 30 – July 30, 2017
Thu 7:30pm, Fri 8pm, Sat 3pm & 8pm, Sun 3pm
Special Performances: Sunday, July 2 at 7pm and Wednesday July 5 at 7:30pm
Possible extension until August 13.
Payment:
$250-$1050 total for the production run of 22 performances
Synopsis:
Amid religious intolerance, political injustice and racial tension, this stirring Tony Award-winning musical explores the endurance of love and hope against all the odds. In 1913, Leo Frank, a Brooklyn-raised Jew living in Georgia, was put on trial for the murder of a 13-year-old girl. Armed with a rousing score and a powerful script, Parade takes an unflinching look into the darkest corners of America's history.
Character Breakdown:

Judge Roan / Old Soldier:
Male, 50-70, Caucasian
Serves as the Judge on the infamous trial. Motivated by bigotry and racism, he is dangerously committed to the ideals of the Confederacy. US Georgian.
Range: Bass
Lucille Frank:
Female, 20-30, Caucasian
Gentle and mousy, but resourceful and resilient. Despite her husband Leo's feelings, she is a true Southerner through and through but can see through the deception. Becomes Leo's greatest ally in the fight against the accusations. US Georgian Jew.
Range: Mezzo with a strong mix belt
Leo Frank:
Male, 24-30, Caucasian
Our story's tragic protagonist accused of murder. As National Pencil Factory Superintendent, Leo is neurotic, uncompromising, and a serial pessimist. Though married to Lucille, he is physically and emotionally displaced. Northern US Jew.
Range: Baritenor
Hugh Dorsey:
Male, 35-45, Caucasian
Atlanta's charismatic District Attorney. He is a devout Christian, who is brute and manipulative at times. Hungry for political success and recognition. US Georgian.
Range: Baritone
Governor John Slaton:
Male, 35-45, Caucasian
As the Governor of Georgia, he is highly concerned with public perception. Flirtatious and fun at times. Strives to maintain his values. US Southern.
Range: Baritone
Frankie Epps / Young Soldier:
Male, 15-20 (To play 15), Caucasian
A charming and simple man, he is Mary's devoted friend and takes an active role in avenging her death. Playful and flirtatious. US Georgian.
Range: Tenor
Mary Phagan:
Female, 13-18 (To play 13-15), Caucasian
A factory worker at the National Pencil Factory who is murdered. She is very innocent but has moments of sassiness and playfulness. US Georgian.
Range: Mezzo
Factory Girls: Iola Stover, Monteen, Essie
Female, 13-18 (To play 13-15), Caucasian
Friends of Mary Phagan.
Range: Mezzo
Jim Conley:
Male, 20-30, African American
A cleaning supervisor at National Pencil Factory. Secretly, he is a convict on the run. Pompous showman with a strong build. Knows how to use his charm to get anyone to believe him. US Georgian.
Range: Bass / Baritone
Newt Lee:
Male, 30-50, African American
He is the night watchman at National Pencil Factory. US Georgian.
Range: Bass / Baritone
Britt Craig:
Male, 25-35, Caucasian
A washed up reporter who can often be found three sheets to the wind. Weaselly and desperate for his 'big break'. US Georgian.
Range: Tenor
Tom Watson:
Male, 25-35, Caucasian
The editor of the zealot newspaper, the Jeffersonian. A journalistic sleaze.
Range: Baritenor
Angela / Minola McKnight:
Female, 20-30, African American
Governor Slayton's and Leo Frank's servant.
Range:Mezzo with high belt
Mrs. Phagan / Sally Slaton:
Female, 30-40, Caucasian
Deeply religious, widowed mother to Mary Phagan. Wife of Governor Slaton.
Range: Mezzo
Riley:
Male, 20-30, African American
Governor Slaton's servant/chauffeur.
Range: Baritenor
Luther Rosser / Officer Ivey:
Male, 30-40, Caucasian
Leo's Lawyer.
Range: Baritenor
Detective Starnes / Mr. Peavy:
Male, 30-40, Caucasian
A detective.
Range: Baritenor