Over 24 hours of live entertainment created some lasting memories last weekend!
by Chance Theater Board Member, and Chance-a-thon Marathoner, Susie Dittmar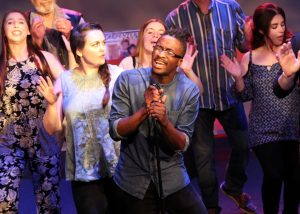 Two days, two stages, 26 hours of live theater, that included over 150 talented artists performing, more than 800 patrons watching, and 250 fundraisers that donated their time, money and passion to this last weekend's 24hr Chance-a-thon. This event, once again, proves that a town becomes a better place when every person has access to the arts. Chance Theater is honored to engage our community in ways that entertain, teach, and inspire conversation. Our amazing supporters raised a grand total of $30,442!!
We are so grateful for our volunteers, marathoners, fundraisers, donors, artists, and community! A very big THANK YOU! None of this would have happened if it were not for them.
There were so many highlights over the weekend. Here's a brief recap… and scroll all the way to the bottom to see our Chance-a-thon Photo Gallery.
Cripe Stage was a flutter on Saturday morning, kicking off the 24-hour Chance-a-thon. Students from OCSA, the Orange County School of the Arts, ranging from 10-16-year-olds, shined in Tomorrow's Stars Act I and II.
Four women found their inner animal in Thinking of Monkeys. These ladies were swinging in the jungles of spoken word, modern dance, and original song, all the while creating a genuine painting.
Jonathan Josephson came with three of his original one-act plays in Fishburne, Marshmallows, and the Gay Rabbi. Each play was more unalike than the last. The first was about how not to meeting a big star, followed by a squishy and sweet romance, and finally the evolution of life's differences.
Don't mess with Breath of Fire Latina Theater! These badass women gave us eight one-acts, written by eight chicas in Fueling the Fire: New Works by Chingona Writers. The scenes explored topics such as, identity, relationships, nationalism, immigration, marriage, and chicanismo.
Returning for her fourth year, songstress Rachel Mount's newest cabaret, as she told us, was not going to be just sad songs as years previous. Her wonderful selections inched their way up the happiness scale.
One of Chance Theater's newest resident artists, Rachel Oliveros Catalano bared her heart in Honestly Me. Along with sharing songs, she personally challenged herself by revealing some difficult life situations. Her next challenge became one of her proudest moments, with her two young daughters accompanying her in song.
Baritone Stefan Miller crooned the ballads generally reserved for leading men and villains on the… taller side… in Too Short.
Founding Artist and brand new mom, Erika C. Miller and Associate Artistic Director and fellow mother, Jocelyn A. Brown showed us the humorous side of being a mommy in The Joy and Guerilla Warfare of Parenting. Their double set also included other musical parents, future parents, and a couple offspring joining them in these grown-up lullabies.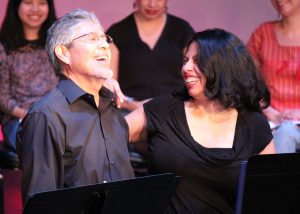 Down the hallway to the Fyda-Mar Stage, things were heating up.
Four pals — Ben Green, Lindsay Marsh, Monika Pena, and Robert Downs — performed a workshop of Donald Margulies' play, Dinner with Friends.
Tenor Jimmy Saiz tapped into his feminine side with his cabaret, I Dreamed a Dream; That Men Can Sing These Songs!!, which solely featured tunes traditionally sung by the sugar and spice set.
Barbara Delgado pulled back the curtain on an actor's worst nightmare of forgetting lines or another thespian sipping the sauce on stage in The Show Must Go Wrong.
The musical and acting duo of Gregg Hammer and Louis Pardo brought us the hilarious parody of Hyman & Parfuncle: Reluctantly Reunited. This original show is a hilarious work-in-progress, skewering show business egos and filled with funny variations of familiar songs.
AND THAT WAS ONLY DAY ONE!
Bright and early on Sunday, the free spirited boy-who-never-grows-up made his way into the Chance for the second year in a row. Peter Pan, A New Musical captured the hearts of the young and the young-at-heart.
Fresh off of his starring role, playing himself in Claudio Quest, Y returned to the stage to present his drag cabaret act… Climb D'Vine. Her staggering skills to get nearly the entire audience dancing at her feet were truly prehistoric.
Adrenaline pumping off the last performance the returning patrons egged on the new with a game of charades in Crystal Phillip's CHAnceRADES. Improv mates Steve and Dimithri were the ringleaders. Team Dimithri took the win: 22-16.
Jonathan Josephson was back with an encore performance of Fishburne, Marshmallows, and the Gay Rabbi.
For the second Chance-a-thon in a row, the participants in the Veterans Initiative in the Arts returned to present the original work they created in November. A group of veterans under the leadership of Karen O'Hanlon told their harrowing, and often funny, stories of their time in uniform. Their often-tragic tales put life's trivial concerns and stresses in true perspective and opened us up for true compassion for these unsung heroes.
John Wells III, along with some friends, put their angst of growing up to music in Growing Up Awkward! A Cabaret.
Rachel Saiz and best friend Shannon Murphy channeled the energy of the fairer sex in Girl Power (Belt). This duo belted out tunes with messages of empowerment for females of any age.
Usually performing in hidden spaces as a musical director, Resident Artist Robyn Manion was in the spotlight for What The World Needs Now…Music! This piano teacher struggled with a set list because, as she said, she's in a good space. So she simply selected some of her favorite melodies.
College sophomore Sarah Pierce has been performing at the Chance for a decade! The triple threat created her own original cabaret titled, Sarah with an H.
Broadway Knights had 14 singers in their court for a toe-tapping, good time with Jukebox Time Machine. It was a stroll back in time with music from the 50s, 60s, 70s, and 80s.
And we had one more performance on the Fyda-Mar stage as well, and it filled the room with magic. Ashley Wagner took us on a musical fairy tale journey in Family Classics Sing-Along.
24-hours (and then some) of theater!! Complete. Thank you for another successful Chance-a-thon! We may have started as distant theatrical cousins but we finished proudly, extending our Chance family.
From the entire Chance Family, and with a full heart of LOVE we THANK YOU. We'll see you all next year!!
6th Annual 24hr Chance-a-thon Photo Gallery