Hairspray
by Steven Stanley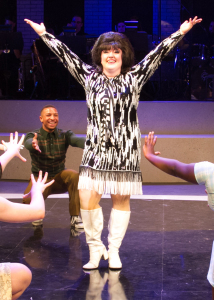 Chance Theater reinvents Hairspray—and brilliantly so—for an immersive, intimate, (almost) in-the-round revival unlike any I've seen before … and trust me, I've seen a bunch.
To begin with, the Chance's larger space has been reconfigured with three rows of seats on three sides of its long, narrow rectangle (with the band situated on the fourth), and while this is not the first time I've seen Hairspray staged arena-style, it is the first Hairspray to literally surround the audience with Baltimore teens. In other words, if you're on either of the two longer sides, you'll have some of The Nicest Kids In Town singing and dancing smack-dab behind you on-and-off throughout the show, just one of director Kari Hayter and choreographers Kelly Todd and Christopher M. Albrecht's many strokes of genius.
Scenic designer Matt Scarpino's set, while suggesting 1960s Baltimore in its interlocking rectangular grids and the "windows" that hang from three of the theater's walls, dispenses almost entirely of movable set pieces. (You won't see cast members lugging on-or-offstage any beds, TV cameras, jail bars, or the like, thereby keeping this Hairspray moving along at a lickety-split pace while letting our imaginations set the scene.)
All of this allows Chance Theater's dynamic choreographic duo to reinvent Hairspray's many dance sequences (as Todd did in 2012's brilliant Chance revival of West Side Story) in a way no proscenium staging would permit. And with more than two-dozen dancing teens moving and grooving from every direction your eye can turn, Todd and Albrecht have choreographed one memorable production number after another—including a grand finale that got this reviewer dancing onstage with Tracy, the rest of the cast, and a bunch of my fellow audience members.
Musically speaking, Hairspray at the Chance rivals the very best of the dozen Hairsprays I've now reviewed, the entire cast vocalizing to perfection to Manion and her bandmates'* rocktastic live backup, voices and instruments expertly mixed by sound designer Daniel Tator.
Still, if there's anything that makes Hayter's Hairspray an extra-special treat, it is the all-around sensational performances she has elicited from her stellar cast, beginning with CSUF senior (and triple-threat extraordinaire) Taylor M. Hartsfield's endlessly energetic, infectiously endearing Tracy and Joe Tish's utterly fabulous Edna, who not only goes from bedraggled to bedazzling but makes us believe in this earth mother extraordinaire.
Robin Walton could not make for a more perfect Wilbur to Tish's Edna, and if we love Mrs. Turnblad, it is at least in part because Walton's devoted Mr. Turnblad so clearly does.
Camryn Zelinger makes the villainous Velma deliciously her own, and when Velma finds herself possessed by memories of "Miss Baltimore Crabs," Norma Desmond had better watch out. Perky LaJoi Whitten gives Motormoth Maybelle plenty of sass, bringing down the house with "I Know Where I've Been," and Jordan Goodsell pays engaging tribute to Dick Clark and his afterschool ilk as Corny Collins. And as for Hairspray's Adult Authority Figures, they are in the inspired comedic hands of Chance Theater favorites Karen Webster as Prison Matron, Gym Teacher, and Penny's prudish mom Prudy Pingleton, and Corky Loupe as Mr. Pinky's Hefty Hideaway owner Mr. Pinky, high school principal Patterson, and Mr. Harriman F. Spritzer.
Equally importantly, the Chance has cast twenty-two award-worthy performers as the teens surrounding Tracy, beginning with eighteen-year-old Chance vet Sarah Pierce, whose Penny goes from Wednesday Addams drab to Technicolor luminous thanks to the love of a "fine looking cat-like black boy" (Prudy's words not mine) named Seaweed J. Stubbs, brought to life by an oh-so appealing Xavier J. Watson, definitely one to watch. (Like everyone else in the cast, Pierce and Watson merit highest marks for their power pipes.)
Hartsfield's fellow Cal State Fullerton Titans Cody Bianchi and Ellie Wyman do absolutely terrific work in their Chance Theater debuts, Bianchi singing like a teen idol dream and making us believe (as Walton's Wilbur does) that he's head over heels in love with his plus-size sweetheart, and Wyman (CSUF's Elle Woods) getting us to love Amber despite how unlovable she can be.
As for The Nicest Kids In Town and their Detion Kids counterparts, the Chance has struck triple-threat gold in Elizabeth Adabale (Shayna), Logan Allison (Brad), dance captain Amanda Baker (Lou Ann), Joey Busch (Sketch), Haylee Cotta (Tammy), DarRand Hall (Duane), LaRece Hawkins (Kamilah), Josh Moynihan (IQ), Joseph Ott (Fender), Monika Pena (Brenda), Izzy Perez (Gilbert), Brooke Steuckrath (Shelley), Zoe-Raven Stevens (Cindy), Jenaé Thompson (Judine), Timyra-Joi (Little Inez), Jacklyn Uweh (Lorraine), Ken Veal (Thad), and John Wells (Stooie), with special snaps to the Dynamite trio of Adabale, Hawkins, and Thompson, and petite but big-voiced Timyra-Joi.
(This may be the first Hairspray I've seen whose African-American high schoolers not only match their Caucasian counterparts in number, they each get their own character name as well.)
Costume designer Bradley Lock gets top marks for creating one smashing '60s outfit after another, smashingly lit by lighting designer Matt Schleicher. (Starting off Penny and Trudy in black is just one of Lock's imaginative choices.) Props may be deliberately minimal, but they are designed with maximum ingenuity by Masako Tobaru. And it wouldn't be Hairspray without one big bouffant wig after another thanks to wig-&-makeup designer Christopher Booher.
Sophie Cripe is dramaturg. Courtny Greenough is stage manager, assisted by Cynthia C. Espinoza and Kayla Pajarito. Sophie & Larry Cripe are executive producers. Niko Rabbitt is assistant scenic designer, Nick van Houten assistant lighting designer and programmer, and Josh Cardenas audio engineer.
There was a while there that Hairspray seemed to be everywhere in Southern California … except perhaps Orange County, just one reason to welcome the now 12-year-old Broadway treat to the Chance.
Direction, choreography, design, and above all performances are four more big ones.
That it happens to be a Hairspray quite spectacularly in a class by itself is icing on the cake.