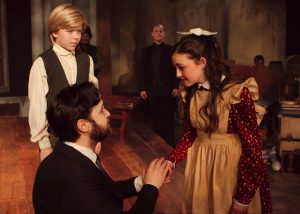 We're delighted to announce the return holiday engagement of The Secret Garden – The Musical, presented as part of Chance Theater's Holiday Literature Series. This Tony Award-winning musical is written by Marsha Norman and Lucy Simon and will once again be directed by KC Wilkerson and Casey Long.
Based on the popular children's book of the same name, The Secret Garden by Frances Hodgen Burnett follows the story of Mary Lennox, a young British girl born in Colonial India who's personality blossoms alongside the flowers of a long forgotten garden. Filled with amazing music, elegant choreography, and a heartwarming story of forgiveness and renewal, The Secret Garden is the quintessential holiday musical for all ages.
"With its heart planted firmly on its sleeve, it's a story about connecting," says co-director KC Wilkerson. "Connecting to family, friends, to our belief systems and the earth. Connecting to our own past, present, and future; and connecting to those who are no longer with us."
"I am so delighted to be returning to this musical for the third time," says co-director Casey Long.  "Although the show is darker in tone than Anne of Green Gables and Little Women, that just means that it has to work so much harder to earn its happy ending.  There's a reason this show won three Tony Awards – the music is amazing, and the story deals with some real issues of grief while never losing the magic and wonder of a timeless coming-of-age story."
The Secret Garden will begin performances at the Chance on November 24 on the Cripe Stage and will run through December 23.
Click here to read the full press release.