Fancy Nancy, the Musical
—
Book and Lyrics by
Susan DiLallo
Directed by
Angeline Mirenda
Based on Original Staging by
Kelly Todd
Musical Direction by
Robyn Manion
Awards and Recognition
TEA PARTY with Illustrator Robin Preiss Glasser
Encore Production
Based on Best-Selling Books
Reviewer Quotes
" This musical is phenomenal (that's a fancy word for really, really great)! "

NW Kids Magazine
" fills the theatre with laughter, catchy songs and life-long lessons "

Beauty News NYC
A sophisticated evening for the fancy side in all of us
Fancy Nancy and her friends Bree, Rhonda, Wanda, and Lionel are going to be performing in their very first show, "Deep Sea Dances." Nancy is positive, that's fancy for 100 percent sure, that she and Bree will be picked to be mermaids. When another girl wins the coveted role of the mermaid, Nancy is stuck playing a dreary, dull tree. Can Nancy bring fancy flair to her role, even though it isn't the one she wanted?
based on the popular "Fancy Nancy" books
by Jane O'Connor and Illustrated by Robin Preiss Glasser
SEASON PRODUCERS Bette & Wylie Aitken
EXECUTIVE PRODUCER Robert Berman
"The show demonstrates that ordinary children can be fancy too, and, even more important, that Fancy Nancy can be an ordinary child."
— New York Times
"The show is quite simply, splendiforous…The music is excellent, the lyrics are clever"
— Babies Gotta Have It
"An irresistible collection of ingenious tunes"
— NYMetroParents
Delight your little ones at a fancy event...
TEA PARTY RECEPTION WITH NANCY & FRIENDS
... PLUS special guest Robin Preiss Glasser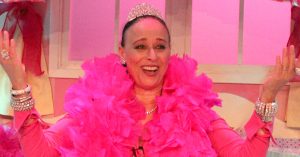 Immediately following performances on...
May 6 @ 2pm 
May 13 @ 2pm Opening Night!
May 14 @ 11am
May 20 @ 11am -- Relaxed performance.
May 20 @ 2pm
May 21 @ 11am
May 27 @ 11am
May 28 @ 11am
May 28 @ 2pm
Join us for an exclusive TEA PARTY in our
Fancy Nancy
-bedecked studio with Nancy, Bree, and hosted by
Fancy Nancy
illustrator, Robin Preiss Glasser.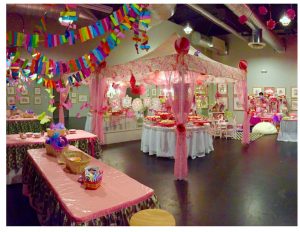 Party & Show Tickets include a reserved seat to the performance and lavish spread (which is fancy for tasty tea sandwiches and divine desserts)! Choice of pink lemonade, strawberry milk or fruity punch (and for our adult guests... enjoy champagne mimosas)!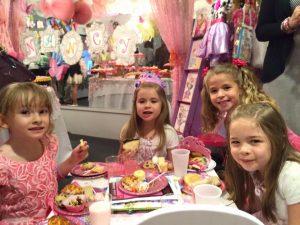 Do come dressed in what makes you feel most exquisite, such as your best tiara, opera gloves, boas, butterfly wings, ballerina tutu, fairy princess gown or all of them ("More is better!" as Fancy Nancy says)!
Ticket Price (includes admission to performance):
$50 for Adults
$42 for Children
(Please note that we will not be able to accommodate anyone with extreme food-born allergies as there will be dairy, nuts and items containing wheat served.)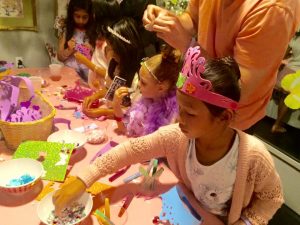 Save $5 by attending Previews (May 5-May 13).
Save $2 by attending Evenings (May 14-May 28 6pm & 7pm). Limited availability.
40% off for Groups of 10 or more.
There will be a special "relaxed performance" of Fancy Nancy, The Musical on
Saturday, May 20 at 11:00am.
This performance will be specifically designed to welcome people who will benefit from a more relaxed performance environment, including people with an Autism Spectrum Condition, sensory and communication disorders, or a learning disability. There may be some small changes to the light and sound effects for the show.
To reserve, call the box office at (888) 455-4212.
Venue Bette Aitken theater arts Center

Venue Amenities
Full-Service Bar
Free Parking
Conveniently Located
See the show? Share your experience with us...
At a Glance
Upcoming Performances

Approximate Running Time:

50 minutes with no intermissions

Special Notes:

@ Bette Aitken theater arts Center
On the Cripe Stage
Photos & autographs after each performance.
Kids under the age of 4 are only admitted at the "relaxed performance" on May 20 at 11am.
Everyone who watches the show must purchase a ticket (no babes in arms).
Relaxed Performance on Sat, May 20 at 11am
Featured Artists
Cast Members
Production Team
Partners