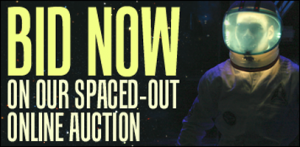 Chance Theater, celebrating our 19th season as Anaheim's award-winning Resident Theater Company, will be hosting a space-themed gala event "A Chance Evening of Extraterrestrial Encounters" on Saturday, August 26, at the Bette Aitken theater arts Center in Anaheim.
You don't need to wait to start supporting the Chance, because starting today you can…
Choose from over 30 different items, ranging from rocking accessories to relaxing sailboat cruises. See the full list here!
The revenues raised from our fundraising gala help fund:
Education program providing local teenagers with scholarships for theater workshops
Veteran's program providing local Veterans a free workshop which uses theater as a creative outlet for personal healing
Playwright-in-Residence program supporting emerging talents from across the country
Annual season of bold, intimate and original plays and musicals that contribute to a more compassionate, connected and creative community
Your support is the first step towards our continued success!