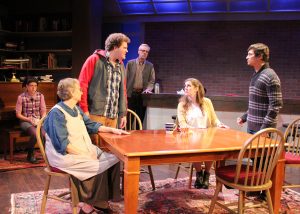 Congratulations to the production teams behind this year's Tribes and Parade, which both made the list of top productions of 2017 in the Orange County Register. We are always happy to see the talent of our hard-working artists recognized publicly, and we are very proud of both shows.
TOP TEN PRODUCTIONS OF THE YEAR

'Tribes': Chance Theater's superlative Orange County premiere of Nina Raine's 2010 play potently depicted, within the singular setting of a comically dysfunctional British family, the distinctive challenges facing those who live in the audible void of deafness.


HONORABLE MENTION
As deserving of mention are these fine 2017 productions…

'Parade': Chance Theater's intimate staging proved you don't need huge sets or a bloated budget to deliver the hard-hitting, Tony-winning 1998 historical drama's full impact.
To see the full list of outstanding theater in 2017, read the full article on OCRegister.com