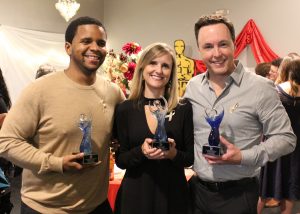 On the evening of Sunday, November 5th, we honored artists from the last year at our annual Season Bash, an exclusive event to celebrate the exciting work on our stages this past year and offer sneak preview performances from next year's season. This consistently sold-out event has always existed to celebrate significant achievement and to recognize outstanding talent. This year, we honored that mission by presenting five artistic awards, a Star Company Member Award and a Star Volunteer Award. There was also special recognition given to the season's stage managers, and our Season Producers, Bette & Wylie Aitken. Nominees and recipients are listed below, with a photo gallery from the event.
This year, the event was co-hosted by Season Producer Wylie Aitken and Chance Founding Artist Casey Long, who kicked off the event by recognizing all the artists from the previous year, the Board of Directors, and our Honorary Producers. Next up, we began our trip down memory lane, starting with last year's Little Women all the way up through Tribes. Board Member Andy Lamb discussed the digital charm of the new musical, Claudio Quest; Board Member Bruce Goodrich shared his enthusiasm for the bold nature and approach of Middletown; Board Treasurer Susie Dittmar (who also hosts our Sunday Salons) talked about how moved she was watching Parade, and how it produced some of the most emotional post-show discussions of the year; Board Member Terry Schomburg lauded the Chance on its continuing relationships with past resident playwrights, including Lauren Yee whose intense drama in a word had its So Cal premiere this year; and we wrapped up with Executive Producer Tod White discussing how special it is to him that the Chance insists on continuing its outreach efforts and wants to reach deeper into the community, specifically the Deaf community for its OC premiere production of Tribes this year.
Resident Artists presented the seven Chancie Awards. After each winner was announced, Resident Artist Alex Bueno spoofed typical awards ceremonies by announcing interesting "facts" about the winners as they walked to the stage (example: "Bruce Goodrich's last name in Spanish is 'Bueno Mucho Dinero"). Scenes and songs from next season were marvelously performed by Resident Artists Sherry Domerego, Robert Foran, Laura M. Hathaway, Monika Peña, and Nicole Schlitt, as well as Stanton Kane Morales, David Carl Golbeck, and Amanda Zarr. The Chancie Audit committee — Board Member Guy W. Marr, Alex Bueno, and Founding Artistic Director Oanh Nguyen — had a hilarious "insight into the process" where they mentioned some of the categories that did not make it to the final voting stage (including Outstanding Overacting in a Leading Role and Oustanding Complaining to a Stage Manager).
The evening also included a special moment of remembrance. Oanh gave a moving tribute to our wonderful Board Member, Mary Kay Fyda-Mar, who suddenly and tragically passed away recently after suffering a stroke. After sharing memories about how Mary Kay first came to the Chance many years ago, and the impact that she has had on the organization, Oanh introduced a video of Mary Kay's speech at last year's Bash where she talked about Dogfight and the importance of the Chance in the community. Following the tribute, the audience gave an extended ovation for Mary Kay's deeply meaningful contribution to the Chance. Throughout the evening, other artists expressed their love for Mary Kay, who touched so many lives.
The event was immediately followed by Chance's Holiday Party, where we were joined by additional artists and supporters for a hosted reception that included wine, a signature cocktail, silent auction, as well as a festive assortment of appetizers and desserts by Sally Ann Catering!
Thank you to all our artists who continue to contribute their talent to the advancement of our mission, to the producers who make it possible for us to present bold and personal work, and our Board and Company for being amazing, and here's to a wonderful upcoming 2018 Season!
CHANCIE AWARD NOMINEES & WINNERS
Star Volunteer Award
James Markoski
Star Company Member Award
Jennifer Ruckman
Outstanding Specialty Design
Justin Melillo, Animator for Claudio Quest — WINNER
Nick Santiago, Projection Designer for Middletown
Nick Santiago, Projection Designer for Tribes

Outstanding Lead Design
Bruce Goodrich, Scenic Designer for Middletown — WINNER
Megan Hill, Scenic Designer for The Little Prince
Bradley Kaye, Scenic Designer for Tribes
Rachael Lorenzetti, Costume Designer for Claudio Quest
Christopher Scott Murillo, Scenic Designer for in a word
Outstanding Supporting Performance
Robert Collins as Jim Conley, Parade — WINNER
Jonathan Fisher as Daniel, Tribes
Robert Foran as Cop, Middletown
Bruce Goodrich as Christopher, Tribes
Aaron McGee as Fox/Men on Planets, The Little Prince
Outstanding Lead Performance
Allen Everman as Leo Frank, Parade — WINNER
James McHale as Man, in a word
Ashley Arlene Nelson as Jo March, Little Women
Monika Peña as Princess Fish, Claudio Quest
Amanda Zarr as Fiona, in a word
Outstanding Direction
Jocelyn A. Brown, Director of in a word
Kari Hayter, Director & Choreographer of Parade — WINNER
Darryl B. Hovis, Director of The Little Prince
HONORARY PRODUCERS
Bette & Wylie Aitken
2017 Season Producers
Mary Kay Fyda-Mar
Executive Producer: Claudio Quest
Elizabeth Jones
Executive Producer: The Little Prince
Scott & Sandra Graham
Executive Producers: Middletown
Robert Berman
Executive Producer: Fancy Nancy, The Musical
Scott & Georgia Well
Executive Producers: Annie
Sophie & Larry Cripe
Executive Producers: Parade
Associate Producers: Tribes
Rachelle Menaker & Eddie Schuller
Executive Producers: in a word
Associate Producers: Parade
Tod & Linda White
Executive Producers: Tribes
Laurie Smits Staude
Associate Producer: Parade
Associate Producer: Tribes
Steve Brown
Associate Producer: in a word
CHANCE STAGE MANAGERS
Courtny Greenough
Bebe Herrera
Lindsay Marsh
Teodora Ramos
Nicole Schlitt
Wade Williamson
SEASON BASH GALLERY