Our "Bold New Home" Capital Campaign has come to a close!
Thank you for helping make our dream of a new theatrical home come true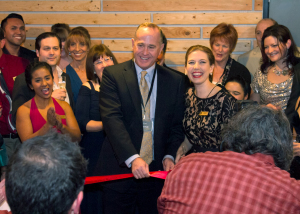 We are thrilled about the completion of our $890,000 "Bold New Home" capital campaign. The fundraising drive began in 2013, received strong support from several prominent community members, and gave us a new theatrical home, which is known as the Bette Aitken theater arts Center, in honor of gifts totaling over $285,000 from community leaders Wylie & Bette Aitken.
The journey to this home began in September 2013, when we announced plans to move our company into a new space that would include two stages, a classroom, better amenities for patrons and artists, and, most importantly, an opportunity to make a larger impact in our community by broadening our educational and outreach programs.
On August 29, 2015, the campaign came to a close at our fundraiser, Chance Noir, when Board Chair Scott Well, realizing that we were only $5,200 short of meeting the $50,000 Final Encore Challenge, asked everyone to help close out the campaign once and for all. Almost instantly, patrons' hands started shooting up in the air, and in a matter of minutes, over $8,000 had been raised and the capital campaign was over. The Chance staff, board, and resident artists breathed a collective (and stunned) sigh of relief… and then everyone in the room burst into applause. Scott then invited Vice-Chair Larry Cripe and his wife, Sophie, to the stage. In honor of their accumulative gifts of over $100,000 during the course of the campaign, the Chance's larger of its two stages with a capacity of 150 seats, will henceforth be known as the Cripe Stage. Larry and Sophie stepped to the microphone and were met with a standing ovation. They spoke about the strong bond they feel to the Chance and how proud they are to have been a part of this important stage in its growth.
The amazing people who made it possible
Over the course of two years, over 230 individuals stepped up to help make this campaign a success, plus several prominent community members who made major gifts, including:
Wylie & Bette Aitken
Sophie & Larry Cripe
Mary Kay Fyda-Mar
Tod & Linda White
Yvonne & Damien Jordan
Scott & Sandra Graham
Robert Berman & Robin Preiss-Glasser
Dr. Michael & Jean Abdalla
Lily M. Fan
Camille Goulet
David & Danice Limberg
Pierce & Gray families
Eddie Schuller & Rachelle Menaker
Scott & Georgia Well
For a full list of contributors to our capital campaign, click here.
Some fundraising highlights during the campaign included Wylie Aitken surprising his wife Bette at the Grand Opening in January 2014 by announcing a $250,000 donation to name the new theater arts center after her; Tod & Linda White and Larry & Sophie Cripe issuing a $75,000 challenge gift at the official dedication ceremony in February 2015 with a deadline of September 1… and was met by the end of May; and finally the $50,000 Final Encore Challenge issued by Wylie & Bette Aitken, Larry & Sophie Cripe, Mary Kay Fyda-Mar and Tod & Linda White in June in order to cover unforeseen construction costs and upgrades, and close out the campaign once and for all by November… and it actually closed out on August 29th.
"This new addition has already allowed us to do more and be more for this community, even within the last two years," said Founding Artistic Director Oanh Nguyen. "Moving forward, we will keep telling contemporary stories that promote connection and compassion and inspire creativity. This new space has allowed us to keep investing in local artists, while continuing our new works program that involves artists from all over the country. In addition, we are now offering more youth programming that aims to introduce young people, not just to live theater, but to their own artistic impulses that we believe will serve them in any path they choose to follow in life."
Since moving into their new home in 2014, the company has achieved some amazing things, including:
Received an Ovation Award from LA Stage Alliance for Best Choreography for our inaugural production, Lysistrata Jones, which was also nominated for Best Musical.
Expanded our Speak Up – Take a 'Chance' summer program to include double the number of at-risk students
Currently producing our first Theater for Young Audiences series
The first in our region to begin a "Relaxed Performance" initiative, making theater accessible to children and adults who have an Autism Spectrum Condition, sensory and communication disorders, or learning disabilities.
Produced seven regional premieres and two world premieres, including Loch Ness, which was developed and workshopped entirely at the Chance as part of our On The Radar New Play Series.
Produced readings of six new shows in development, four of which have gone on to receive world premieres in major regional theaters, including Lincoln Center and Cleveland Playhouse.
More than doubled our subscriber base, and increased ticket revenue by over 140%.
The first season of shows was also recognized by the Los Angeles Drama Critics Circle, Robby Awards, San Diego Story, Orange Curtain Review, and other press outlets.
Key Features
Located within the same building complex
Increased our square footage from 3,000 sf to 6,000 sf (Phase I), and then 9,000 sf (Phase II)
Increased our seating capacity from 49 to 150 on the Main Stage (while maintaining flexible, comfortable seating)
Added a 2nd Stage for expanded season programming, and opportunities for outside community artists
Upgraded temperature control
Provided additional audience bathrooms and a larger lobby
Improved dressing rooms and backstage facilities
Fully ADA accessible
Negotiated a 10-year lease with two five-year options
Expanded to include an on-site rehearsal space/classroom with Phase II
Benefits of Expansion
TO THE COMMUNITY
Greater audience capacity
Continue telling bold, thrilling & relevant stories
Increased community engagement
Expanded & improved our production capabilities
Further developed youth & outreach programs
Supporting new works
TO OUR SUPPORTERS
Higher production values
More comfortable theatergoing experience, including expanded concessions with a full bar
Family recognition through Naming Opportunities
From the community…
"Large and diverse metropolitan areas deserve a great theater landscape. Chance will complement South Coast Repertory's productions by providing Orange County with provocative alternatives of intimate plays and reimagined musicals."
— Martin Benson, Founding Artistic Director, South Coast Repertory
"Among a very robust small theatre scene in North Orange County, Chance Theater has stood out. We are excited to keep them in our city while they make their next step, as they have a proven track record of contributing to our community on every level – culturally, artistically and economically."
— Tom Tait, Mayor of Anaheim
"What attracted me to serve on the board is the excellent artistic values, the collaboration evident at every level and the commitment to an intimate theatre experience for the audience. I have been impressed with
their careful, accountable management practices, their passionate determination and their honest communication within the organization."
— Guy W. Marr, Board Member
And from the press…
"But as audiences and other performing arts groups know, this storefront-size company has a reputation for quality that makes it a big player in the local theater scene."
— Los Angeles Times
"Chance Theater is like a hip-cool, younger version of South Coast Repertory – and just as thoroughly professional all around as that venerated O.C. institution."
— Orange County Register
"A major force on the Southern California theatrical landscape"
— OC Weekly
"As its name implies, Chance Theater dares to take chances, and the results can be astonishing"
— Back Stage West
"Chance Theater is the best and most enterprising small theatre in Orange County…the Chance produces new, challenging, and rarely seen works with astounding professionalism"
— Stage and Cinema
Completion of the "Bold New Home" Capital Campaign
August 29, 2015
---
Bette Aitken theater arts Center Dedication Ceremony 
February 7, 2015
---
Grand Opening of our Bold New Home
January 25, 2014
---
Hard Hat Party (beginning of construction)
September 3, 2013
---
Capital Campaign Video
Released on November 15, 2013
rate and share this video with your friends on YouTube
Read below what others are saying about the Chance's big move into its Bold New Home, and the positive effect it will have on the arts and its community.
Theater Facility
$285,000
Bette & Wylie Aitken
Main Stage
$100,000
Sophie & Larry Cripe
Concessions Bar
$87,500
Tod & Linda White
Box Office
$70,000
Mary Kay Fyda-Mar
Green Room/Office
$25,000
Yvonne & Damien Jordan
Artist's Private Restroom
$20,000
Scott & Sandra Graham
Drinking Fountain
$15,000
Eddie Schuller & Rachelle Menaker
Dressing Room B
$14,000
Robert Berman & Robin Preiss-Glasser
2nd Stage Dressing Room
$10,000
Founding Artists
Equity Shower
$10,000
Chance Resident Artists
Stage Door
$10,000
Dr. Michael & Jean Abdalla
Kitchenette
$10,000
David & Danice Limberg
Backstage Entrance
$10,000
Sammy Pierce
Actor's Entrance
$10,000
Scott & Georgia Well
TBD
$10,000
Camille Goulet
Premium Seats ($5,000)
Argyros Family Foundation
Martin & Wendy Benson
Victor & Marnie Ceporius
David Emmes & Paula Tomei
Gail & Ernie Doe
Pamela J. Lorenz, CFP
Manny & Betsy Porto
Frances Riggs
Eddie Schuller & Rachelle Menaker
Laurie Smits Staude
Zeinab H. Dabbah & Daniel Temianka
Priority Seats ($2,500)
AJIS Lamb (2)
Chapman University – Sheryl Bourgeois
Susan Carol Carpenter
Susie Dittmar
Kathy & Bahram Esfahani
Stephen & Susan Faessel
Michael Garcia & Burt Vosburgh
The Hamman Family
Jeffrey Hellebrand
Patti Howard & Carol Hellebrand
Nancy Johnson
Elizabeth Jones
Dan Kee & Judy Todd
Joanne & Dennis Keith
In Honor of Don Laffoon & Grace Songolo
James & Marsha Lindsey (2)
Casey Long
Tommy & Madeleine Long (2)
Jolynn & Pat Mahoney
Christina Mar
Richard Martin
Marc Masterson
Bryan McCormick & Gary Kuwahara (2)
In memory of David McCormick
Bill & Jane McDonald
Drs. Pauline Merry & John Goodman
Dr. and Mrs. Eberhard S. Neutz
Oanh Nguyen & Erika C. Miller (2)
Pacific Western Bank (2)
Muriel Pollia Foundation (2)
Ron & Marilyn Rice
Michelle & Terry Schomburg
Leonard & Susan Silberman (2)
Karen Smits
Tom & Julie Tait
The Well Family
Tod & Linda White (2)
Lisa C. & Thomas E. Zaradich
Location
Bette Aitken theater arts Center, 5522 E. La Palma Ave., Anaheim, CA 92807
---
Theater Size
Doubled the old theater space with 6,000 sq ft (Phase I)
Additional 3,000 sq ft space (Phase II)
---
Seating
Up to 150 seats (Phase I) and 49 seats (Phase II)
---
Parking
Ample free parking in front of the theater
---
Phase I
Fundraising goal: $465,000
The Chance moved into an upgraded theater space that is twice the size of its current theater, which provided an opportunity to expand the possibilities of the work we do while maintaining the intimacy that our audiences have come to expect from a Chance Theater experience.
Completed on: January 25, 2014
---
Phase II
Fundraising goal: $425,000
The Chance has expanded into another unit that provides enough space for a classroom/rehearsal space, second stage and a scene shop. We will also be purchasing new lighting and sound equipment to meet the demands of a larger space, finish the lobby, and upgrade our audience risers.
Completed on: August 29, 2015
---
Timeline
Groundbreaking, site work: September 3, 2013
Construction began: September 17, 2013
Grand Opening Gala: January 25, 2014
Planning begins for Phase II: March 2014
Dedication Ceremony: February 7, 2015
Opening of 2nd Stage: March 19, 2015
Construction to be completed by the end of 2015
---
Campaign Leadership Team
Campaign Chair: Larry Cripe
Board Chair: Scott B. Well
Immediate Past Chair: Mary Kay Fyda-Mar
Construction Coordinator: Georgia Well
Architect: John Robinson,
Foundation Architecture + Construction
 (Phase I)
and Bert Elliot, Elliot & Associates (Phase II)
Contractor: Stan Hatch, Heritage Construction
Theatre Consultant: Fred Kinney
Interior Design Consultant/Marquee Design: Bradley Kaye
Project-Related Inquiries
---
For more information, contact Erika C. Miller at (714) 970-0592 or send her an email.