CONGRATS to our Chance artists whose work on two Chance productions this year has been recognized by the LA Stage Alliance Ovation Awards!
We are incredibly proud to see our artists be recognized for their outstanding work. There are only so many ways we can celebrate our artists so we're thrilled to see them being recognized by other organizations as well! Way to go!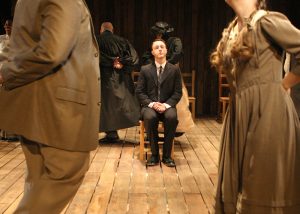 PARADE:
BEST PRODUCTION OF A MUSICAL (Intimate Theatre)
KARI HAYTER
Best Direction of a Musical
ALLEN EVERMAN
Best Lead Actor in a Musical, Leo Frank
CLAUDIO QUEST:
DREW FORNAROLA and MARSHALL PAILET
Best Lyrics/Composition for an Original Musical
We also want to give a special congratulations to the following Chance artists for being recognized on work outside the Chance. You guys are amazing!
Martha Carter – Lighting Design (Intimate Theatre), Burners at Moving Arts
Kari Hayter – Best Direction of a Musical, Urinetown at Coeurage Theatre Company
Pablo Santiago – Lighting Design (Large Theatre), Zoot Suit at Center Theatre Group
Read the full list of awards and winners at www.thisstage.la.com/